S 'obzirom na onu moju prevazidenu situaciju bio sam u prilici da formatiram hard disk i osmislim "parcelisanje". Do sada sam to radio sa Acronis-om a na Exxtreme forumu su me savetovali da neke opcije koje mi nisu bile dostupne probam sa
Partition Magic 8.0
i bilu su vise nego u pravu jer sam sa tim programom uspeo da uradim ono sto sam i zeleo a to je merge-ovanje 2 patricije u jednu. Izuzetno mocan a jednostavan za koriscenje, toplo preporucujem!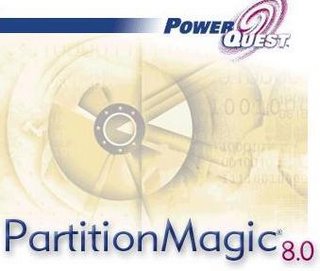 Divides a single hard drive into two or more partitions

Lets you safely run multiple operating systems on the same PC

BootMagic makes it easy to switch between different operating systems

Allows you to copy, move, resize, split, or merge partitions as needed without losing data



How-to wizards guide you step by step through the partitioning process

Intuitive Windows-based browser lets you find, copy and paste files in both

Windows and Linux partitions


Allows you to create and modify partitions up to 300 GB*

Supports USB 2.0, USB 1.1, and FireWire external drives**

Supports FAT, FAT32, NTFS, Ext2, and Ext3 file systems

Converts partitions among FAT, FAT32, and NTFS without losing data

Allows you to enlarge an NTFS partition without restarting your computer

Resizes NTFS system clusters to the most effective size

Supports operations on partition sizes as large as 300 GB when partition is less than 90% full.
Larger hard drives may require additional memory.

** For these devices, operation on partitions with no open files.
Partition Magic
System Requirements
Windows XP Home Edition/Professional
* 233MHz or higher processor
* 128 MB of RAM
Windows 2000 Professional
* 150MHz or higher processor
* 64 MB of RAM
Windows NT WS/Me/98/98SE
* 150MHz or higher processor
* 32 MB of RAM
REQUIRED FOR ALL INSTALLATIONS
* 55 MB of available hard disk space
* DVD or CD-ROM drive
_________________
4S_SQUAD BabaRoga
Don't mess with 4S !!!